Dreams come true: 10 films about the Christmas miracle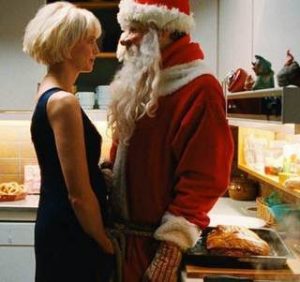 New year is a time when dreams come true, and it does not matter whether you live on 3rd street Builders or Fifth Avenue. We have compiled for you a Christmas selection of ageless classics, family and romantic comedies and original films that prove that miracles are close. Enjoy watching and magical new year mood!
Very Murray Christmas, 2015 merry Murray Christmas! Sofia Coppola's musical ("Marie Antoinette, ""translation Difficulties") rarely makes it into the classic new year's selections, and this is an unfortunate omission. The plot of "A very Murray Christmas" is simple and beautiful at the same time: on the eve of the holiday, bill is preparing to play a new year's show and is waiting for star guests.The weather makes its own adjustments to this plan: new York is covered with snow and frozen as if before another Groundhog Day. But is it worth it to lose heart about this on Christmas eve? We strongly recommend watching the film in English with Russian subtitles and enjoy "Jingle Bells", "Baby, It's Cold Outside" and "the Christmas Blues" in the original language.
It's a Wonderful life, 1946 on Christmas eve, George Bailey, played by James Stewart (Hitchcock's favorite and winner of two Oscars), contemplates suicide. To dissuade George from this step, Heaven sends him to the rescue of the guardian angel of the second class. And the, in turn, decides show George, somehow was would the world, if would his never existed on light of.From year to year, this film is shown in the United States on Christmas eve-just like the "Irony of fate" in our area. "This wonderful life" is ranked number one on the list of Hollywood's most inspiring pictures and 24th in the IMDb Top 250.
Peter's Friends, 1992 once Kenneth Branagh, Emma Thompson, Hugh Laurie, Stephen fry and three other friends gathered to celebrate Christmas after a ten-year separation.Despite the fact that we are talking about the heroes of the film, and not a real case of the life of British actors, this description is not far from the truth: they are all friends off-site. Perhaps that's why the shooting of "Friends of Peter" took ten days, and the opening scene, including behind-the-scenes jokes and dancing, turned out to be the first take.
Real lovelove Actually, 2003The Christmas weather in Britain is defined by a romantic cyclone: it seems that all the inhabitants of Albion-from the Secretary to the Prime Minister-are in love, but not yet together. The directorial debut of screenwriter Richard Curtis (Bridget Jones, Notting hill, Four weddings and one funeral) has become a real Christmas classic and one of our favorite wonder films.
Home for Christmas Til jul, 2010 a leisurely Scandinavian film from Norwegian Director bent Hamer ("Factotum", "O'horten"), undeservedly left out. On Christmas eve, a homeless Jordan tries to get at least some money, Dr. Knuth hurries to an urgent call, and working Paul begs his ex-wife to meet with their children.The stories of ordinary people from a provincial town are intricately intertwined and give each of them a small but real miracle.
Everyone says I love youeveryone Says I Love You, a 1996 classic American musical by woody Allen with views of new York, Paris and Venice, subtle jokes and great music. Holden (Edward Norton) and Skylar (drew Barrymore) are about to get married.The girl's mother has a daughter from ex-husband Joe (woody Allen), who has just broken up with another passion. To retell the plot further does not make sense — all members of a large family interfere with each other's relationships, moving in time and space. It's funny that Allen told the actors that he was shooting a musical, only after signing contracts.
Lost Christmas, 2011the touching and instructive story of a boy Gus, who lost his parents. A year after their deaths, a mysterious stranger appeared in Manchester. He does not remember his past, but he has a magical gift: touching a person, he can accurately determine what he has lost.Do not doubt, the Christmas miracle will not keep you waiting, because even if the loss can not be returned, a person always has the right to a second chance.
Merry Christmas Joey Noël, Christmas and war are an unthinkable combination. It seems that they have nothing in common, but a real miracle can happen anywhere, even on the battlefield.Magic night United soldiers of three armies: Germans, British and French. Instead of killing each other, they all came out of the trenches and celebrated Christmas together. The film is based on real events, and from this on psyche becomes even warmer.
The Christmas Miracle of Jonathan Toomey, a touching and simple film for family viewing during the new year holidays. A ten-year-old boy, whose father died in the war, moves with his mother to a remote village.There he meets the unsociable carpenter Jonathan Toomey, experiencing the loss of his wife and child. On the eve of Christmas, fate brings them together with one goal: to find the strength to enjoy this beautiful life again.
Curly curly Sue, 1991melodrama by John Hughes ("home Alone", "101 Dalmatians", "Breakfast Club") was super popular in the early 90's, but has not lost its charm in our time."Curly sue" – the story of a rich young lady, sheltered in his mansion tramp bill Dancer (James Belushi) with a smart girl sue (Alison porter). New year holidays are a great occasion to review this film with the whole family and remember what happened next.