Short on the main thing: five mini-series that you can watch in one day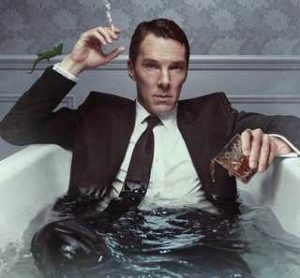 2018 gave a lot of good projects mini-format, and we have selected for you the best of the best. The list includes the premieres of the outgoing year, which appealed to us, critics and viewers around the world: from the nominees for the "Golden globe" to those who are almost unknown to us. One season, ten episodes at most, and a lifetime of events.
Patrick Melrose (Patrick Melrose)5 series, 60 minutesimdb: 8.2 drug Addict, alcoholic, psychopath and just handsome Patrick Melrose (Benedict Cumberbatch) learns about the death of his father. To celebrate, he is going to permanently get off drugs, but there it was. To erase the nightmarish memories of his childhood, Melrose Jr. drinks, sniffs, swallows, stabs and harasses others .The series doesn't drive hunter Thompson's books ("Fear and loathing in Las Vegas") or Danny Boyle's movies ("on the needle") as it might seem at first glance. Bad trip is a completely different kind of hero: traveling through the mazes of memory, Melrose goes a long way of accepting himself. Forty years of the life of a British aristocrat fit into five diverse episodes, each of which is an adaptation of the book by Edward St. Aubyn, cumberbatch's favorite writer. The actor has repeatedly admitted that in the list of roles of his dreams there were only two items: hamlet and Patrick Melrose.Sharp objects (Sharp Objects)8 episodes, 60 minutes
IMDb: 8.2 Another story about struggling with the past and yourself from Jean Marc-Vallee, Director of "Big little lies, ""Dallas buyers club" and " Cafe de Flor." The series centers on journalist Camilla Parker, played by two-time Golden globe winner and five-time Oscar nominee Amy Adams. An editorial assignment leads Camille to her hometown, where two teenage girls have become victims of a maniac. Then — a painful return home, endless conversations with the locals and a surprise after the final credits.Again, southern Gothic, one-story America, detective intrigue and the hero, drowning in a pool of flashbacks, hallucinations, madness and darkness. "Sharp objects" largely repeats the successful formula of "True detective", with one exception. This is a series about women.Maniac (Maniac)10 series, 26-47 minuteimdb: 8deystvie "Maniac" is happening in retrofuturistichnom world, where Steve jobs shot down team bus, and cassettes "Betamax" implicitly won in war formats. Addict Annie (Emma stone) and schizophrenic Owen (Jonah hill) are involved in a study of a new drug that should solve all problems. The supercomputer puts them in a three-day trance, but everything, of course, does not go according to plan. From series to series, the characters travel to different worlds, telling completely different stories."Maniac" Director Cary Fukunaga, who thundered after the first season of "True detective," deftly shuffles plot cards and juggles genres. In "Maniac" there is everything: drama, Comedy, detective, Thriller, action and even fantasy with the Queen and elves. The most difficult thing is to survive the first two episodes. Believe me, all the fun starts later.The tragedy in Waco (Waco)6 episodes, 50 minutesimdb: 7.9 "the Tragedy in Waco" – the story of how the FBI fell out with the religious commune "Branch of David", and what came of it. In fact nothing of the good: during a failed RAID began shooting, and after a hard siege of the home of the sectarians. The denouement will not keep you waiting — six episodes can easily be swallowed overnight.David Koresh, illustrating the law of God, is played by Taylor Kitsch. FBI agent, representative of the law society-Michael Shannon. And the question of who is a good guy and who is not, remains open. The plot of "Tragedy in Waco" is based on real events, and it becomes somehow quite uncomfortable.Seven seconds (Seven Seconds)10 episodes, 60 minutes
IMDb: 7.7 Krovi on motives "Major" Yuri Bykov, where from of the original has remained one tie: policeman Peter Dzhablonski (Bo Nappe) hurry to pregnant wife and accidentally brings down teenagers. In the American version — not simple, but black. This becomes the main argument of Peter's boss: in order not to provoke racial conflicts, the crime must be hidden. The people of Jersey city demand justice, the assistant Prosecutor digs up the truth, and Peter himself unsuccessfully tries to negotiate with his conscience.Showrunner and writer of the series Vina Cabreros Court, known for the Scandinavian Noir "Murder," called "Seven Seconds" a metaphor for what is happening in the States right now. Speculation on the topic of racism is no better than racism itself — the creators of the series managed to convey this idea without stamps and moralizing.